About the Start-up Marathon
Support young entrepreneurs to start and scale innovative digital and tech start-ups that offers solutions to communities challenges and contribute to the advancement of the sustainable Development Goals
Throughout its journey, the marathon will look at building a digital eco-system and boosting the digital entrepreneurial mindsets through:
Building youth entrepreneurial capacities
Grasp essential entrepreneurial concepts from industry leading trainers and mentors
Bring the opportunity to pitch their digital ideas to specialized judges and investors
And compete to win a package of incubation, special mentoring and coaching, and seed funding to start-up Digital-led businesses.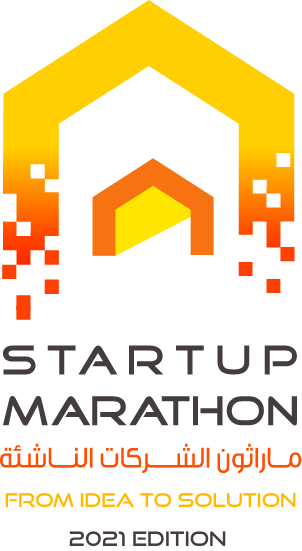 We have to reimagine our interventions for a digital age; an age where digitalization is a tool for inclusion, equity and resilience. At UNDP Syria, we aim to leverage the power of digital technology and innovation to create jobs, improve services, promote economic diversification and catalyze post-COVID-19 recovery.
IDEATE and APPLY
IDEATE a solution-based idea that contribute to one or more of the current societal challenges And APPLY to the marathon call for application.
Deadline 31st of July 2021
LEARN
LEARN Through the marathon boot camps and be equipped with the essential digital entrepnreuship skills, innovation tools and methodologies, business modeling, pitching skills, and get reflections from the digital industry leaders.
1st bootcamp "Basics & Reflections" 15 -> 19 August
2nd bootcamp "Advanced digital camp" 10 -> 13 October
PROTOTYPE
PROTOTYPE and design your low fidelity product to evidence your idea in the 1st marathon pitch.
21 -> 28 August
BUILD
BUILD your minimum viable product (MVP) with the support of mentors associated with special coaching hours from the digital industry leaders.
1 September -> 9 October
PITCH
PITCH your Digital entrepreneurial idea to a specialized judge and investors.
Final pitch 15 October
START-UP
START-UP your digital-led early-stage business with a package of incubation, special mentoring and coaching, and seed funding.
Why should you join the marathon?
Five days boot camp "basics and reflections"
Technical and financial support to develop the low fidelity design and the MVP
Mentoring and coaching
Bootcamp "Advanced digital Camp"
Incubation
Seed funding